August 13, 2020
How to Turn Tours into Leases
Automation. That's the strategy.
The leasing process is currently in the middle of a great shift, as technology has undertaken a more significant role in securing signatures. If you combine the technological advances made over the past decade along with COVID showing up unannounced and ever-so-casually changing the structure of our economy, keeping up to date with the latest tech is no longer a luxury, but quickly becoming a necessity to stay competitive. Willingness to explore new options as it relates to automating your leasing process is sure to increase your conversion rates and maximize your execution efficiency. Here a few of those options and how they help!
Tour Scheduling with Calendar Sync
"The true value addition of our new tour scheduling feature is the ability to automate the entire sales process from lead generation to opportunity creation. All availability is directly synced from your calendar whether you're using google, iCal, or office 365, so prospective tenants can schedule a time without all the back and forth from traditional sales practices. The scheduling link can be placed on your website, an email, or even through a text message. Leasing teams can open our platform or even their own email platform to view/manage their tours while executive teams can view reports to understand the efficiency and effectiveness of their team's efforts."  – Taylor Davis, President of IRIO
One quick click and calendars on both ends are automatically updated!
Accessibility of information
The ease at which a prospect can have their questions answered and desired information in front of them plays a huge part in whether they
stay interested in looking at your offerings. IRIO's Text-4-info strategy solves this issue. When prospects text in, they are sent customized, automated responses which eliminate the need to wait on a representative to serve them. Prospects are then asked qualifying questions and given answers – all through automation – to push them towards scheduling a tour.
Automated responses allow easy access to things like floorplan information, availability, microsites, and pricing, as well as qualifying them as a level two lead so you can know exactly how best to serve them.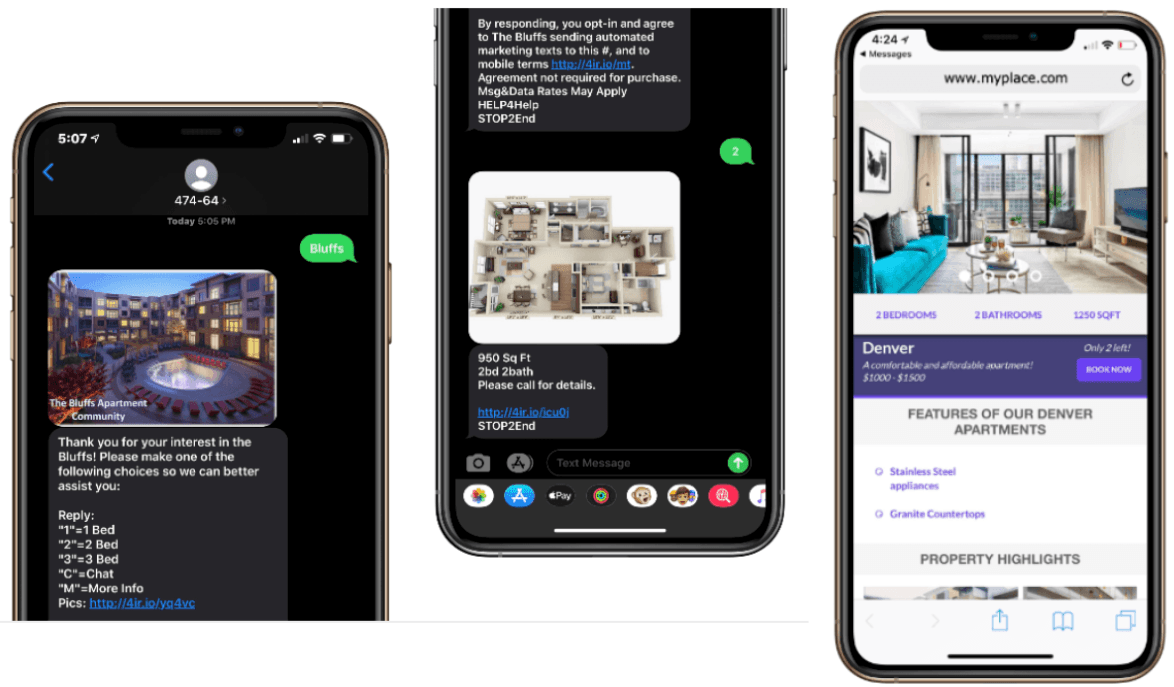 Personal Connection
Wait a minute… isn't the point of automation to remove the human element? Doesn't technology minimize the personal connection and distance yourself from your customer? It sure can – but only if you let it.
At IRIO, we recognize this and make sure the personal touch is never lost with our "Chat" option. The prospect is given an automated response to eliminate downtime between texting-in and a reply. They can then choose to chat with a representative who has easy access to all conversations through the dashboard. Straight from the platform, a representative can respond personally to any and all questions, comments, or concerns.
Sales start with the relationship you or your company build with the customer. Text messaging is used by nearly all demographics and is a key form of communication in any relationship. It is personal and breaks past a certain intimacy barrier. And it can all start with an automated task from IRIO.